Which Bilingual Dictionary for MFL?
3 Comments
Wednesday, 1 July 2015 |
Little Linguist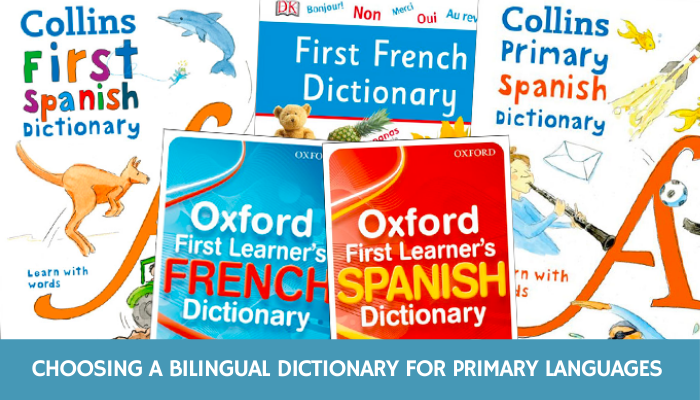 Which dictionary should I use in the Primary MFL Classroom?

Now that Modern Languages feature in the primary school curriculum, there has been an increasing range of bilingual dictionaries especially targeted at younger children. Two of the major UK dictionary publishers, namely Collins and Oxford, now publish bilingual dictionaries that have been carefully tailored to meet the needs of Primary MFL students.

In this post, we will take a look at some of the most popular primary school foreign language dictionaries.


Bilingual Dictionaries for Key Stage Two ( 7 - 11 years)

There are two main choices when choosing a first "proper" bilingual dictionary. Collins publish the very popular Primary Dictionaries (formerly known as First Time and then Primary Illustrated dictionaries), available in two languages: French or Spanish. These newest editions were published in 2019.

Core vocabulary is covered in detail with simple examples to illustrate usage, key phrases highlighted, and carefully selected illustrations. Topic pages at the end of the dictionary give additional vocabulary on various useful subjects for pupils and teachers.

There are A-Z French or Spanish to English, and English to French or Spanish sections and colour is used throughout to make these very user-friendly and appealing to for beginners.

Oxford's First Learner's series also comes in French or Spanish variants and feature many of the same user-friendly features as the Collins Dictionaries.

They are easy-to-use, with a clear design and the use of colour throughout makes accessing French or Spanish simple.

Each also has a special thematic colour picture section on topics ranging from animals, colours, clothes, classroom language, numbers, weather, family, and words pupils need to know when on holiday or an exchange programme

We would recommend either of these dictionaries for Years 3 & 4 (7 - 9 year olds), but also for Years 5 & 6 (ages 9 - 11) if they are new to learning the language and / or new to using bilingual dictionaries.

For pupils in Years 5 & 6 (ages 9 - 11 years) who have been learning languages for a few years and are able to confidently use bilingual dictionaries, you may find that the Collins Primary and Oxford First Learner's dictionaries are a bit limited in their range of vocabulary. For these more able Key Stage Two children, we would recommend the Collins Pocket Dictionaries. This series offers titles in a range of languages including French, German, Italian, Mandarin and Spanish.

Again, features such the use of colour and example sentences make these accessible for young learners. They offer a wider range of vocabulary as well as important grammar notes and verb tables; these will last well into Key Stage 3 (age 11 - 14) and beyond.

Bilingual Dictionaries for Key Stage One ( 5 - 7 years)

Collins have also published very simple option for younger children: Collins First Dictionaries, in a choice of French or Spanish. Aimed at 5 - 9 year olds (upper Key Stage 1 and Lower Key Stage 2 beginners), these each teach 500 words and introduce children to bilingual dictionaries through a combination of topic-based themed pages, rather like a picture dictionary, and an A-Z illustrated section too.

Like the Collins Primary Dictionaries, these are very simple for beginners to use and have features such as full colour and example sentences. They also have links to the words online so pupils (and non-specialist teachers) can check their pronunciation.

Another publisher, DK, has also produced a range of First Dictionaries, available in both French and Spanish. Aimed at ages 7+ (upper Key Stage One), these are more detailed than the Collins First Dictionaries - introducing around 2,000 words.

At the beginning of the book there are topic-themed pages that include lots of useful words, presented through photographs of everyday objects, labelled with both their English and French or Spanish names, together with a guide to pronouncing the words. There are also A-Z pages that work like a traditional bilingual dictionary, allowing children to quickly access a word and find its translation, as well as a section of useful phrases to learn.

How Many Dictionaries do I need?

We would recommend at least one dictionary per two pupils for general classroom work.